Kelley from
Haute Mom
made my day this morning when she notified me that my blog had been selected as the guest host for the Welcome Wednesday Blog Hop! With my new relaxed, positive attitude, I smiled to myself knowing that 2012 is off to a great start!!
Kelley is a 'haute' mama to a beautiful little girl, a fellow working mama and an avid runner! Amazing how motherhood inspires us to achieve new goals and aspirations!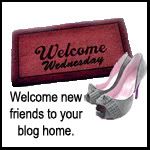 The blog hop rules are simple!!

1. Follow the hostess,
Haute Mom
and the guest hostesses. Be sure to leave a comment so that we can follow you back.

2. Follow the guest hostess (and I might mention, I love those comments!!)

3. Link up your blog for all of us to love.

4. Make an attempt to check out at least two new blogs. Don't know where to start? How about the two blogs above you? If you love the blog, become a follower and leave them a comment letting them know.

So link up! You don't have to post about the hop...but you know how we ladies work, the more the merrier. We would love it if you would help us spread the word and help Welcome Wednesday grow! One of you could be next week's spotlight guest hostess!
So grab a glass of wine, and relax into 2012 with outstanding Mom Blogs!!
Thanks Kelly!!